The unceasing and untiring efforts of chartered accountant Jehangir Bisney and advocate Shireen Baria ensured a landmark judgement in the unique case of a semi-coma patient in Secunderabad. Dr Parin Vakharia of Secunderabad, who is 94 years old and presently in a semi-coma state for the last seven years, started receiving hostile calls and messages from her banks and other institutions for linking her Aadhaar.
Vakharia is a retired founder dean of the faculty of social work, The Maharaja Sayajirao University of Baroda, retired social affairs officer in the social services section of the United Nations Bureau of Social Affairs at New York, USA and retired director of Princess Esin Women's Educational Centre at Purani Haveli Hyderabad. She has been incapacitated and bedridden since 2011 due to a cerebrovascular accident.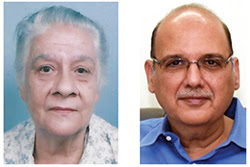 Dr Parin Vakharia (above l) and Jehangir Bisney
With Bisney's assistance, efforts started in April 2017 to enable Vakharia get an Aadhaar card. In order to do this, two attempts were made by the Aadhaar authorities by bringing the required equipment to her home to obtain her fingerprints and biometrics. However, on both the occasions the enrolment was rejected due to very poor quality of fingerprints and the inability to capture her biometrics due to her age. Because of her prolonged state of semi-coma, she was unable to open her eyes voluntarily or hold the eyes still for scanning.
Thereafter, Bisney sent several emails to the Unique Identification Authority Of India (UIDAI) but he did not receive any reply to his emails. Frustrated, he personally approached a senior official at UIDAI Hyderabad who gave him a patient hearing and assured him that the formalities for issue of the Aadhaar card would be completed in a few days. However, despite several reminders to the said official, there was no concrete response.
Banks, mutual funds, financial institutions and other places where Bisney was dealing with on behalf of Vakharia, were sending repeated reminders for linking of her Aadhaar card. He feared that non-submission of the same by the due date could create tremendous hardship for her in the event of her bank accounts and other investments getting frozen and inoperative.
Left with no option, Bisney approached his friend and Supreme Court lawyer Baria based in Secunderabad to take up the matter. A finely worded legal notice was sent to UIDAI by Baria. However, UIDAI failed to respond to this too.
With the then deadline of March 31, 2018 for the linking of the Aadhaar looming large, Bisney and Baria filed a writ petition before the Hyderabad High Court. Baria mentioned that Vakharia was under immense pressure to obtain an Aadhaar number, failing which her entire earnings, income and investments in all her bank accounts would be frozen and become inoperable, leaving her with no remedy for her sustenance and medical needs. If Vakharia was not issued an Aadhaar card she would not be able to pay her medical expenses nor the salaries/payments to doctors, nurses, caretakers, thus endangering her life and infringing upon her fundamental right to life, it was argued. There was a strong possibility of a restriction upon her liberty to use her own monies for want of an Aadhaar card. In view of her age and medical condition, the High Court immediately stayed the requirement of the Aadhaar. In this landmark judgment, Vakharia thus got relief from the submission of the Aadhaar to banks and financial institutions.
Vakharia has no living relatives in the twin cities of Secunderabad and Hyderabad and she was just very fortunate that her chartered accountant Bisney stepped in. The Supreme Court bench of five judges hearing clubbed petitions against Aadhaar linkages on May 9 heard submissions by senior advocate Shyam Divan. He said that people have been facing a lot of difficulties in authenticating and specifically cited her case.
Bisney feels that "there are lakhs of Vakharias in India and everyone does not have a Bisney or a Baria to come to their rescue. Such people are deprived of their pension, ration and other financial transactions just because their fingerprints and/or biometrics failed to get them the Aadhaar." Bisney hopes that the Supreme Court presently hearing the Aadhaar case considers all such circumstances before passing a judgment. "No person in India can be deprived of his or her right to livelihood for want of an Aadhaar card," he averred.
By: BEYNIAZ EDULJI
PARSIANA
21-MAY-2018